10 AMAZING LATEST TECHNOLOGY YOU MUST SEE IN 2018
1) Evercam:

Not need for wires no and no need of frequently battery changes 365 days of battery life, it partnered with anchor put their most advanced battery technology inside the evercam and by using low frequency transmission signal to stay connected on standby mode saving energy by up to 70%, evercam will keep on working for up to a year with needing to be recharged, with the adjustable ball shape mount evercam can be positioned and repositioned using either single screw mounting base or skip the mounting hardware the magnetic 1080p HD camera will just stick to all kind of metal surfaces.
Evercam with stands temperature changes and moisture so you can put it on any where any place,
Motion trigger and WI-Fi connected evercam sends you notification when someone on the door or someone on the chair, even if someone is raiding the fridge, the artificial intelligence of evercam use a three phase system to ensure you see what you want to see.
Step one it's able to screen out movement that doesn't have the heat signature using an infrared sensor.
Step two it detects human body shapes in various positions.
And step three facial recognition technology allows evercam to recognize faces of the people you want to give clearance to or keep closer eye on, so just set your preferences to send an alert when it matters, and another feature is evercam has two way audio , evercam is the first to put an SD card into home base securely storing 60 days of footage locally no need to go to the cloud no up charges or monthly charges.
2) Tennibot:
Santa bot is the world's first robotic ball collective Tennibot perfectly integrates computer vision and artificial intelligence to detect tennis balls on the court and collect them from players.
You can let kind of all work autonomously using the station that easily attached to the net post or Tennibot app to have the customize wear in the court the device will clear Tennibot easily sync to your phone and even your apple watch to make activation quick and seamless the app also keeps track of how many balls are collected during the session and how often you practice so feel free to brag your friends about you are you stepping up your game while never having to pick up tennis ball Tennibot is designed with convenience in the mind the removable bucket holds up to 80 balls and lets you easily continue your hitting session. The battery takes only 90 minutes to charge and runs 4 to 5 hours. Its portable design let you pick up Tennibot on wheel off the court just like any suit case and when you done it's compact size makes it's easy to fit in your car's trunk.
3) Vue smart glasses:

Vue  is world's first pair of smart glasses which match your lifestyle and look, regular earphone transmit sound through the air but vue's bone conduction speakers transmitted through vibrations,
It send sound directly to your ear and only you can hear it.
Battery has 2-3 days standby time on a single charge 7 days standby with charging case Talk time: 5 hours Size: 3.7V 90mAh Lithium Polymer.
Talking about audio it has Stereo bone conduction speakers Patent-pending sound leakage prevention design Frequency range: 20 – 20,000Hz Impedance 8.5Ω, Distortion < 5.0, SPL 88dB
MEMS digital microphone.
Bluetooth is compatible with all devices Bluetooth 4.2 A2DP profile and range is 30ft/10m.
Wireless charging via case Charging time: 2 hours Case is charged via USB.
6-axis accelerometer & gyroscope Infrared proximity sensor 5 field capacitive touch pad.
iPhone 5 + running IOS 8 + Android 4.3 + app compatibility.
Weight is 28 grams, rain splash and sweat resistant and processor is ARM Cortex
4) All Terrain Shoe:
Winter can be a tough time for running shoes, especially given the current trend towards knitted uppers, which are comfortable to wear but do little to prevent water soaking through to your foot when it's wet out. All- Terrian sneakers are mesh of comfy urban shoe with rugged technical outdoor boot on the one hand it's stylish comfortable and light and on the other hand its meticulously crafted as an incredible shoe for outdoors, it grabs your foot very firmly with elastic counter heel it has a slip resistance soul with very strong rubber grip so you can trust it any where
So the All Terrain will probably not keep you dry if you plough through every puddle you see or run during a particularly heavy downpour, but that would be asking a lot of it.
Adding a raised collar is always risky because when running shoes extend their collar towards the ankle, the extra fabric has an unwelcome tendency to rub against the achilles and produce blisters. I am happy to report this was not the case with the UltraBoost All Terrain, though it was more comfortable to wear it with socks that extended up past the collar, rather than with the fabric of the shoe in direct contact with the skin.
5) Kablecard:
Reason Behind it.
You have so many different chargers, for your phones (iPhone and Android), tablet, travel adapters, portable battery and more Type C devices coming up. BUT, you can't throw away all of your old micro USB devices, and Apple just wouldn't give up on their lightning connector. So, the question is, how many types of cables do you need for all of your devices?
The answer is 6. There are at least six essential cables that you need.
We've all been there, searching frantically for the right cable for a particular device. Murphy's Law reminded us that you probably wouldn't have the right cable in time of emergency, when you need to charge your device the most.
How easy is it to bring 6 different types of cable with you at all times? We say very. Very easy!
What is KableCARD?
6 Types of Cable in a Card
KableCARD is a revolutionary design that integrates all the essential and most frequently used cables connectors; a near 1 foot long Type C base cable with 3 types of adapters which makes up to 6 different types of cables.
You'd imagine something that contains the function of having 6 types of cables AND wireless charging to be quite heavy and definitely bulky. Well, that would defeat the purpose of it being portable and assessable whenever you are, wouldn't it?
We designed to be as small and light as a credit card, with a thickness of 0.3"inch only.
Wireless Charging
But what about that phone you bought that supports wireless charging? KableCARD is designed with a wireless charge. When Kable CARD is plugged into a power source, it acts as a wireless charger for your device. With or without wire, it's all up to you.
Efficient & Organized
The great thing about having cables and essentials to be designed as a card dimension is that it's just so neat. Everyone has to dig around their bag looking for the right cable among other cables and objects lying around in the depth of the bag — but not you. With KableCARD, you don't even have think about which type of cable to bring. Just slide the CARD out of your wallet or pocket. Whenever, and wherever you need.
More than Just Cable
When you're traveling overseas, you'd buy a local SIM card so that you wouldn't receive an outrageous phone bill afterwards. KableCARD includes a SIM ejector pin and 2 nano SIM card storage. It might look simple, but makes a significant difference when the occasion arises.
Memory Reader
When there is no internet, no email access, how do you transfer a file to someone? Thumb-Drive works…but waits what if someone only has Type C ports. What now?
No worries, KableCARD can read memory cards and support both Type A (Standard USB) and Type C. All done!
Phone Cradle
Long flight? Movie? Landscape mode and hands-free? Yes, yes and yes. One second to set up KableCARD as a cradle. What makes it even more awesome, is that you can watch movie on your phone hands-free WHILE charging it at the same time! (Don't forget that KableCARD supports wireless charging as well.)
Ambient Light
KableCARD has elevated the ease and convenience for smartphone users. But at the same time, we, as designers, are concerned about the long term influence of smartphone usage, in particular, the harmful effect on your eyes when using smartphones in the dark or even dim environment.
According to multiple studies and reports from the American Optometric Association (AOA), some main symptoms of Computer Vision Syndrome (CVS) or Digital Eye Strain includes headache, blurred vision and eyestrain. One of the major cause of this is reading or staring at screens with poor lighting.
That's why we designed a three-stage switch 3000K LED on KC7, with both diffusion foil and diffuse reflection sheet, reflecting soft diffused light of 1W on table tops (when KableCARD is used as a cradle) or on the wall, creating effective biased lighting to protect your eyes.
6) The Webcaster Gun:
Created by professionals, The Webcaster Gun™is the only UL listed, patent pending designed gun available for the amateur halloween decorator.
Any Home Haunter can take an ordinary scene and add cobwebs to bring the scene to life.
Connect a simple air compressor and insert our Webcaster Sticks. In minutes you'll have an amazing scene!
Includes 6 Free Clear Sticks
7) Backrelease – Back Pain Relief with Deep Tissue Massage:
Backrelease is the first choice for you for apply the targeted and regular treatments, with backrelease 3 attachments localize pressure can be created very easily the device can assemble in a very short time and ready to use.
The benefits are :
Release muscle tension:
No matter where it hurts, the Backrelease self-massage tool is the perfect solution for you! Many other tools are limited in their usability, and only work on the legs or the back, or they require extra help for use. Backrelease gives you the freedom to work all parts of your body on your own. Even the areas of the low back or around the shoulders, which are notoriously hard to reach. Applying the right amount of pressure to exactly the right spot will effectively release any tenseness or tightness around your body.
Put an end to lasting pain and discomfort
Chronic pains in particular require targeted, intensive and most importantly regular treatment. All of these aspects are easily covered by using the Backrelease! The process of healing is in your hands, giving you the power to finally break through the cycle of pain and muscle tightness. Regular use of the Backrelease will resolve your pain quickly and effectively!
Get back to feeling flexible:
Adhesion of the connective tissue not only cause pain, but also lead to reduced ability of the tissue to shift. This in turn limits the mobility of the joints, leaving you feeling stiff and inflexible. Due to its precisely localized effectiveness, the Backrelease targets these Adhesion directly, and you will immediately feel the improved flexibility. Regular use of the Backrelease will maintain your flexibility, leaving you to feel light and free.
Support muscle regeneration
Everyone doing sports regularly knows that regeneration is a vital part of the training! Those pushing their bodies to the limit need the most effective regeneration. Backrelease is the perfect tool for you! The treatment increases the blood supply and releases areas of tenseness, thereby optimizing regeneration. You can simply treat all muscles that you worked hard during training. This gives you very individual treatment, getting you ready for the next training session
Contribute to fitness and performance of body
Get the best from your body while feeling as good as never before! You want to be fitter, peak in your training and improve your technique? Use the Backrelease self-massage tool! By precise treatment of your triggerpoints and fascia throughout the body, you can remove any obstacle in the way of better performance. It renders your body ready for action, finally pushing you up the next level. Backrelease will get your there!
8) Trailer valet:
Introducing the newest addition to the Trailer Valet family: The RVR Series. Our first self-motorized and remote-controlled series of units, the RVR is designed to take the chore out of moving your trailer. With the RVR you can now move your trailer without bending over or the need to use your own drill. The RVR comes with a rechargeable lithium-ion battery that can give you up to 30 minutes of runtime. The included remote control allows you to not only move your trailer with just the push of a button, you can do it from up to 40 feet away. Now you can move your trailer into tight spaces without having to ask someone else to help you look around the corners. Heavy-duty caterpillar treads allow the RVR to go over different terrains including asphalt, gravel, grass, and dirt. The RVR also comes with 2 or 4 planetary gear motors that can drive both single and dual axle trailers.
With three models ranging from 3,500 lbs, 5,500 lbs, and up to 9,000 lbs, there's a RVR for every trailer.
RVR5 and RVR9 models includes the Trailer Valet Base + Ball Set attaching the unit to your trailer coupler. This includes interchangeable 2 inch and 2-5/16 inch hitch balls.
The RVR3 includes a Mounting Bracket, attaching the unit to the side of your trailer frame.
9) Count a smart projector:
Count Projector, a Desk Lamp/Projector Platform Capable of Turning Your Smartphone Into an Interactive Augmented Reality Projector, at CES Show, January 9-12, 2018
The company's innovative projector delivers a brand-new warmer user experience based on augmented reality, projection mapping and interactive desktop technologies
Count projects virtual objects on to real ones so that the user can feel the texture of the real objects instead of a cold display panel," said Kenneth Wu, Yinscorp LTD CEO and co-founder. "Technology is moving toward connecting people across distances and providing an immersive virtual/augmented reality user experience, but this trend unintentionally isolates people from their close families and friends. Count delivers technology designed to bring them back together.
Count benefits and features include:
Eye-friendly display — Through mirroring the display of a smart phone, Count expands the display size and reduces the blue light exposure to lessen eye strain.
Collaboration — A big projected desktop area and the Count's applications bring people together by allowing two users to access the platform simultaneously.
Versatility — The multi-function platform turns a desktop into an efficient workspace: the user can, among other things, make video/voice calls, play music/videos, play AR card games and learn how to draw.
Flexibility – The pico-projector is rotatable and detachable, enabling multiple-angle projection. The maximum projection size is 120 inches diagonally.
Interactive inspiration — With an interactive desktop and spatial augmented reality technology, Count can motivate and inspire users to learn more through entertainment.
10) Origami folding kevlar shield: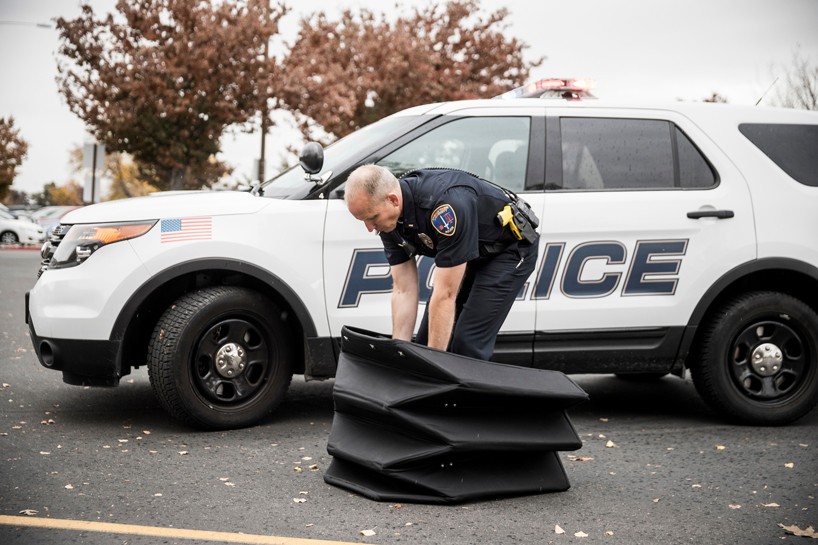 BYU (brigham young university) engineering professors have designed a lightweight origami-inspired bulletproof shield that can protect law enforcement officers from gunfire. based upon a yoshimura origami crease pattern, the barrier can be assembled in just five seconds and folded compactly when not in use, making it easier to transport and deploy.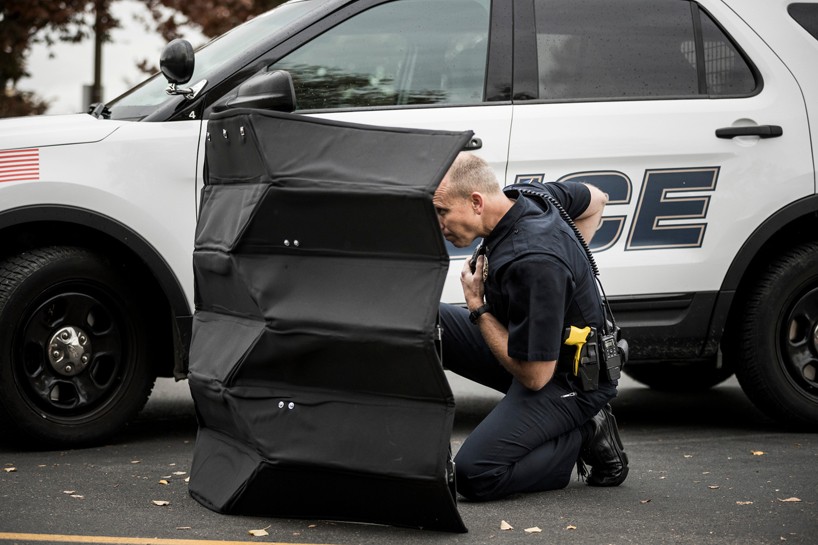 in working with law enforcement, BYU (brigham young university) learned much of what is currently used hasn't evolved much from medieval times: shields that are mostly flat, awkward plates that cover only one person. current barriers are so heavy and cumbersome they make it difficult for officers to move into position. in response to these issues BYU researchers designed a compact version using a yoshimura origami crease pattern made from 12 layers of bulletproof kevlar which expands around the officer when constructed.
at only 55 lb (25 kg) the barrier is almost half the weight of current steel-based shields and can safely protect two to three people at once. in testing, the barrier exceeded researchers expectations by successfully stopping bullets from 9 mm, .357 magnum and .44 magnum pistols.
'it goes from a very compact state that you can carry around in the trunk of a car to something you can take with you, open up and take cover behind to be safe from bullets,' said terri bateman, BYU adjunct professor of engineering and research team member.'then you can easily fold it up and move it if you need to advance your position.'
in addition to protecting police officers, researchers believe the barrier could be used to protect children in a school or a wounded person in an emergency situation. 'there are a lot of risks to law personnel and we feel like this particular product can really make a difference and save a lot of lives,' bateman said. 'it makes us feel like we're really making a difference in the world.'